Facility Information
We would like to welcome you to our new office located at 7101 North Oak Trafficway. With the need to move from our old facility, we searched for many months to find a location that we felt would allow us to continue to provide the quality of dental care our patients deserve. We wanted to stay in the same area as our old office and were able to find a new home in an unused building just two blocks away from our longtime 69th street office. The building had been used for many different purposes in its history, but would ultimately find new life as our new dental office. With a complete interior remodel, we are proud of what we were able to achieve and hope that you find our new location to be a warm and comforting dental home. With our move comes new technology to help improve the quality of dental care that we can provide for you, our valued patients.  (See Technology) Our office now features new dental cabinets and delivery units, new chairs and lighting, new x-ray tubes and digital sensors, and a brand new panoramic radiograph. And not to worry, many of the same pieces of art and decorations that many patients have asked about, have found a new home here at the new office.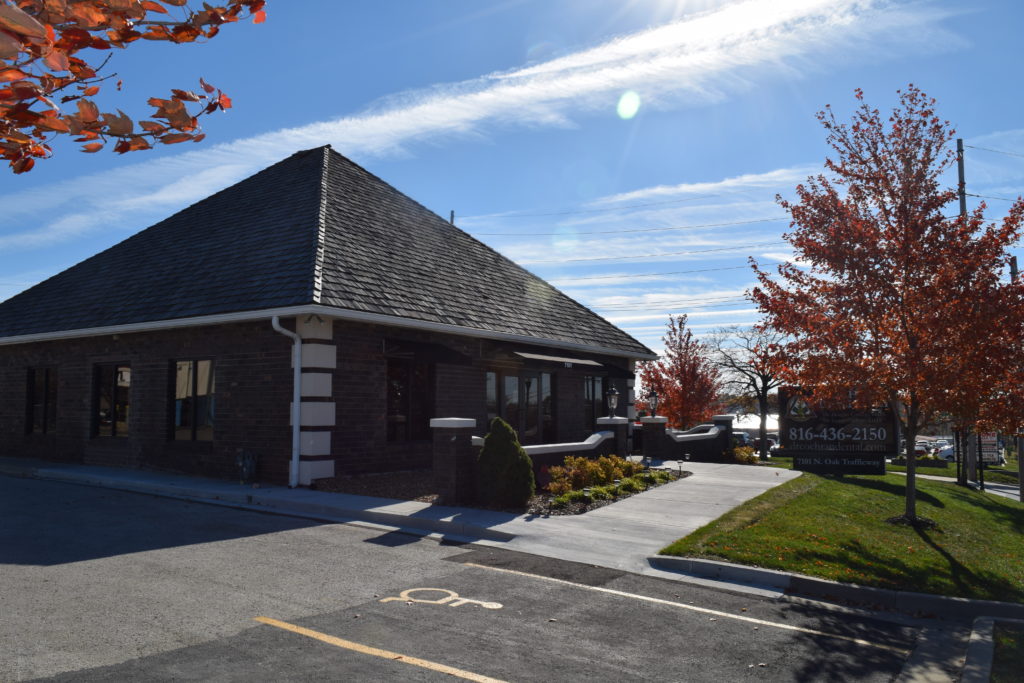 Regulations
It is one of our top priorities to protect the health, well-being, and personal information of all of our valued patients.  For that reason we work diligently to make sure that we not only meet but surpass all government regulations:
ADA (Americans with Disability Act) specifications
EPA (Environmental Protection Agency) guidelines
OSHA (Occupational Safety and Health administration)
CDC (Center for Disease Control) standards
HIPPA (Health Insurance Portability and Accountability Act) Information Privacy
Appointments
If you would like information about our office or to schedule an appointment, please contact the office by phone at (816) 436-2150.
We reserve time for emergency appointments in our schedule during most clinic days, so please do not hesitate to call if you are in need.
New patients are always welcome and we greatly appreciate patient referrals from existing patients. We feel that a referral is the highest form of flattery and we look forward to treating your friends and family.
Rescheduling and Cancellation Policy
If you need to reschedule an appointment, we ask that you provide us with a minimum notice of 24 hours, preferably 48 hours. We ask for this advance notice so we can offer your appointment time to another patient who is currently on our waiting list. A fee may be charged if a patient doesn't show up for an appointment without sufficient notice.